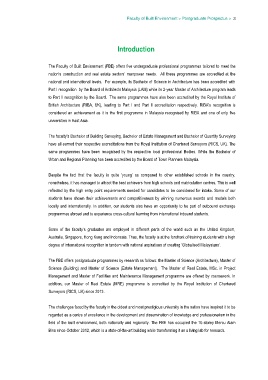 Faculty of Built Environment > Postgraduate Prospectus >  3



                                                     Introduction



                       The Faculty of Built Environment (FBE) offers five undergraduate professional programmes tailored to meet the
                       nation's  construction  and  real  estate  sectors'  manpower  needs.    All  these  programmes  are  accredited  at  the
                       national and international levels.  For example, its Bachelor of Science in Architecture has been accredited with
                       Part I recognition  by the Board of Architects Malaysia (LAM) while its 2-year Master of Architecture program leads
                       to Part II recognition by the Board.  The same programmes have also been accredited by the Royal Institute of
                       British  Architecture  (RIBA,  UK),  leading  to  Part  I  and  Part  II  accreditation  respectively.  RIBA's  recognition  is
                       considered an achievement as it is the first programme in Malaysia recognised by RIBA and one of only five

                       universities in East Asia.

                       The faculty's Bachelor of Building Surveying, Bachelor of Estate Management and Bachelor of Quantity Surveying
                       have all earned their respective accreditations from the Royal Institution of Chartered Surveyors (RICS, UK). The
                       same  programmes  have  been  recognised  by  the  respective  local  professional  Bodies.  While  the  Bachelor  of
                       Urban and Regional Planning has been accredited by the Board of Town Planners Malaysia.


                       Despite  the  fact  that  the  faculty  is  quite  'young'  as  compared  to  other  established  schools  in  the  country,
                       nonetheless, it has managed to attract the best achievers from high schools and matriculation centres. This is well
                       reflected by the high entry point requirements needed for candidates to be considered for intake. Some of our
                       students have shown their achievements and competitiveness  by winning numerous awards and medals both
                       locally and internationally. In addition, our students also have an opportunity to be part of outbound exchange
                       programmes abroad and to experience cross-cultural learning from international inbound students.


                       Some  of  the  faculty's  graduates  are  employed  in  different  parts  of  the  world  such  as  the  United  Kingdom,
                       Australia, Singapore, Hong Kong and Indonesia. Thus, the faculty is at the forefront of training students with a high
                       degree of international recognition in tandem with national aspirations of creating 'Globalised Malaysians'.

                       The FBE offers postgraduate programmes by research as follows: the Master of Science (Architecture), Master of

                       Science (Building) and Master of Science (Estate Management).  The Master of Real Estate, MSc. in Project
                       Management and Master of Facilities and Maintenance Management programme are offered by coursework. In
                       addition,  our  Master  of  Real  Estate  (MRE)  programme  is  accredited  by  the  Royal  Institution  of  Chartered
                       Surveyors (RICS, UK) since 2013.

                       The challenges faced by the faculty in the oldest and most prestigious university in the nation have inspired it to be
                       regarded as a centre of excellence in the development and dissemination of knowledge and professionalism in the

                       field of the built environment, both nationally and regionally. The FBE has occupied the 10-storey Mercu Alam
                       Bina since October 2012, which is a state-of-the-art building while transforming it as a living lab for research.